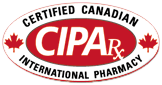 Canadian International Pharmacy Association
CIPA is a Canadian association of licensed retail pharmacies. CIPA helps sell prescription drugs made by the leading name-brand manufacturers at prices up to 80 percent less than in the U.S. This includes drugs made by respected global companies such as Pfizer, Merck, Eli Lilly, and many others. These pharmaceuticals are tested and proven to be safe. In fact, CIPA has provided pharmaceuticals to more than ten million U.S. patients since the organization's founding in 2002, with a perfect safety record.

CIPA pharmacies ensure patients have access to quality prescription drugs. CIPA pharmacies follow the same prescription process as U.S. mail-order companies, requiring a valid and signed prescription from the patient's doctor or health care provider. We provide the same quality controls and convenience as U.S. mail-order drug services, allowing consumers to maintain their health with name-brand medication delivered right to their home.



​